Year end Accountant Package Checklist
A question I am often asked is "I have done my own small business bookkeeping throughout the year. I am now preparing my paperwork for year end. What information does my accountant need?"
Your accountant will need the following small business bookkeeping information packaged in an organized fashion. Some like to keep it all in a year end binder, others in a series of file folders.
Whatever your recordkeeping system, just make it organized so your accountant can easily find any information s/he is looking for. Whenever possible, it is preferable these days that the information and reports be placed in DropBox (or a similar service), delivered by encrypted mail such as eCourier, or on a CD in pdf format as opposed to paper copies.
So here is my accounting checklist:
if you are using computer software, a backup copy with password OR an invitation to your cloud software
trial balance dated for the last day of your previous fiscal year
trial balance dated for the last day of your current fiscal year
financial statements for the fiscal year (balance sheet dated last day of fiscal year, income statement for the fiscal period and a cash flow statement if you have it)
general ledger for the twelve month fiscal period
general journals for the twelve month fiscal period
source documents pertaining to the purchase, major repair, and sale of capital assets
include the original cost and net book value of capital assets sold along with the proceeds receivied upon dispostion of the asset.
source documents pertaining to incorporation, lease agreements, financial loans, insurance or any contracts you have entered into ... include payments dates and amounts so your accountant can determine if any adjusting entries need to be done
investment statements and credit card statements
bank statements for the year including returned cheques as well as the bank statement and cheque stubs for the first month of the following year
a cheque register would be helpful
a listing of all pre-authorized direct deposits and withdrawals on your bank and credit card statements
reconciliations for the bank, credit card and investment statements
aged listing of all accounts payable identifying any amounts in dispute
vendor rebates / gift certificates received and/or used from vendors, usually issued as bonuses due to high volume purchases
aged accounts receivable listing marking any doubtful accounts
listing of all customer deposits and / or prepayments outstanding
listing of any accrued liabilities
inventory listing
all government correspondence and tax forms filed with CRA this year including GST/HST reports, tax instalments, WCB and PST reports, prior year notice of assessment and income tax returns
all government grants correspondence or other financial assistance documents
payroll information and reports including PD7As, T4s and T4 summary
If your accountant is also doing your taxes, s/he will also need your home office expense information and your auto log if you use your personal vehicle for business, along with a listing of all your auto receipts.
GOOD TO KNOW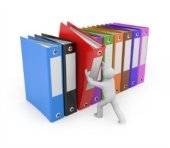 From the list below, you will see your accountant doesn't want to look at all of your receipts and invoices like your bookkeeper does. Why?
It is most likely that you have a notice to reader engagement, not a review or audit engagement. This means the accountant has not been engaged to review your paperwork.
You or your bookkeeper have processed all the paperwork and put it in a format your accountant can use. Your accountant will go through your small business bookkeeping reports, third party statements and government information reports submitted to CRA (or IRS). S/he will request additional backup from you when necessary.
You can see where this could lead to a problem if your bookkeeping or your bookkeeper's bookkeeping is poor quality ... it leads to problems during a tax audit.