Switching bookkeepers? - Here's a quick Checklist:
Bookkeeping Checklist
For When You Switch Bookkeepers
You have decided to switch bookkeepers and wonder if there is a bookkeeping checklist you could use to gather the information for your new bookkeeper. My answer is yes!
Your new bookkeeper will need the same small business bookkeeping information you were giving to your old bookkeeper ... plus a trial balance up to the last date your old bookkeeper did the books as well as a year-to-date general ledger. Pdf copies placed in DropBox (or similar service), delivered by encrypted mail such as eCourier, or on a CD are preferred over paper ... but paper still works.
Your bookkeeper will likely give you a client start-up bookkeeping checklist. It will probably look something like this:
expense receipts including internet receipts - sorted by source of payment: bank, credit card, business cash, and personal funds
documents pertaining to the purchase, major repair, and sale of capital assets
documents pertaining to lease agreements, financial loans, insurance or any contracts you have entered into.
investment statements, bank statements including deposit slips and returned cheques, credit card statements including card payment slips, vendor statements
a cheque register would be helpful
a listing of all pre-authorized direct deposits and withdrawals on your bank and credit card statements
vendor / supplier invoices both paid and unpaid
listing of accounts payable would be helpful - even if it is just your best guess
customer invoices and sales receipts issued including outstanding customer invoices
an accounts receivable listing would be helpful - even your best guess helps marking any doubtful accounts
listing of all customer deposits and / or prepayments received
inventory listing
all government correspondence and tax forms including GST/HST reports filed with CRA this year, notice of assessments, tax instalments, WCB and PST reports
payroll information and reports including new employee information, payroll reports, PD7As, T4s and T4 summary
The more organized your records, the less it costs to process them. Further up on the same page is a box with links to more tips on how to reduce your bookkeeping fees.
If you have all the above small business bookkeeping information completed and with you on your first visit, your new bookkeeper should be up and running quickly.
GOOD TO KNOW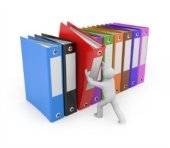 Your bookkeeper wants to see ALL your source documents pertaining to your business ... unlike your accountant. They need it to ensure they have recorded your business revenue and expenses properly.
The only thing bookkeepers really don't need are your personal receipts. Personal expenses should not be going through your business accounts.
If your bookkeeper (is that you?) doesn't have the knowledge to categorize your transactions properly ... you may be in big, Big, BIG trouble if you are ever audited.